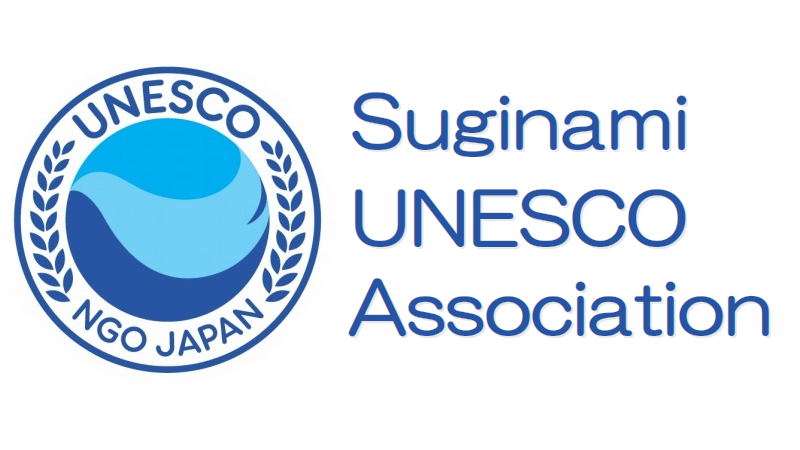 History
In September 1951, Suginami UNESCO Association was founded in Suginami, the birthplace where the anti-atomic bomb campaign was held. Suginami Association is the oldest among the UNESCO associations in Tokyo.
Purpose
The mission of UNESCO (headquarters in Paris) is to spread world peace and to promote the common welfare of the human race through education, science, culture and communication.
In alignment with the UNESCO Constitution, Suginami UNESCO's goal is to spread the culture of peace in everyday life, from the local level to the globe arena with UNESCO's spirit of peace in mind.
Activities
We promote activities through projects mainly co-organized by Suginami Board of Education. Some projects, such as the "UNESCO Meeting", are lecture-oriented. Projects such as the "Gallery Tour" are for everyone, and others such as "UNESCO Summer Course", "Junior High School Club" and "International Children's Exchange" are intended for young people. We also hold workshops, issue newsletters, and hold many other activities throughout the year.
Moreover, we participate in UNESCO's "World Terakoya Movement" (i.e. educational support for developing countries) and "World Heritage Preservation Movement".
Introducing the Activities
UNESCO Summer Course
Japanese Junior high school students in Suginami and international school students, together with senior high school students and college students from the Suginami UNESCO Youth Club (Seinenbu) participate in these courses. The course is held for 8-9 days during summer vacation, including an over-night camp. The course includes international camping, visiting JICA, and many other activities to help cultivate international understanding. Japanese students are given the opportunity to communicate directly with international junior and senior high school students. The Summer Course is planned and conducted mainly by the Suginami UNESCO Youth Club. Their young and powerful enthusiasm attracts and motivates all those participating.
UNESCO Junior High School Club
Held in the afternoon on the 2nd Saturday every month, the main activities of the JHS Club are English conversation class, events to foster cultural understanding, and playing sports. In order to further understand other cultures, we invite non-Japanese citizens living in Suginami as well as officials from foreign embassies as speakers to share stories about their own country, education, and culture.
International Children's Exchange
Provides opportunities for Japanese elementary school students to gain multicultural experiences. We invite students from nearby international schools to visit elementary schools in Suginami. Programs are planned in cooperation with the host elementary schools.
International Junior High School Exchange
Provides opportunities for Japanese junior high school students to gain multi-cultural experiences. Japanese students (participants) are selected through an application system open to the public and are invited to join students at St. Mary's International School. They attend the classes taught in English only and gain very unique experiences.
UNESCO Meeting
Following the first UNESCO Assembly held in November 1946, Suginami UNESCO held its first UNESCO Meeting in 1952, the next year of its foundation. The aim of the UNESCO Meeting is to spread the UNESCO peace spirit to the public, and to call on people to cooperate with UNESCO. Co-hosting with Suginami boards of education, we hold lectures, symposiums, panel discussions, concerts, and movie shows, with a focus on peace and UNESCO activities such as the World Terakoya Movement.
Co-Action for UNESCO Terakoya Movement
☆Private UNESCO associations support the "World Heritage Preserving Movement" and the "UNESCO World Terakoya Movement".
☆Presently there are 860 million illiterate adults around the world and 113 million children who cannot attend to school.
☆The United Nations, with the slogan "Education for All", declared 1990 to be "International Literacy Year" and the years 2003-2012 as "Decade of UN Literacy".
☆Prior to the "International Literacy Year", the National Federation of UNESCO Associations in Japan built Terakoyas (literal translation: the place to learn) in developing countries in 1989 to provide many children and adults with the opportunity to receive education. The movement continues as new Terakoyas are being built to promote "UNESCO World Terakoya Movement".
☆Suginami UNESCO Association has been supporting the Terakoyas in India, Afghanistan, Vietnam, Cambodia, and Bangladesh.
☆To finance these activities, Suginami UNESCO Association conducts fund-raising activities such as bazaars and donation of spoiled postcards.
☆The motto of the activities is to act upon and foster mutual understanding, not just providing one-way support.